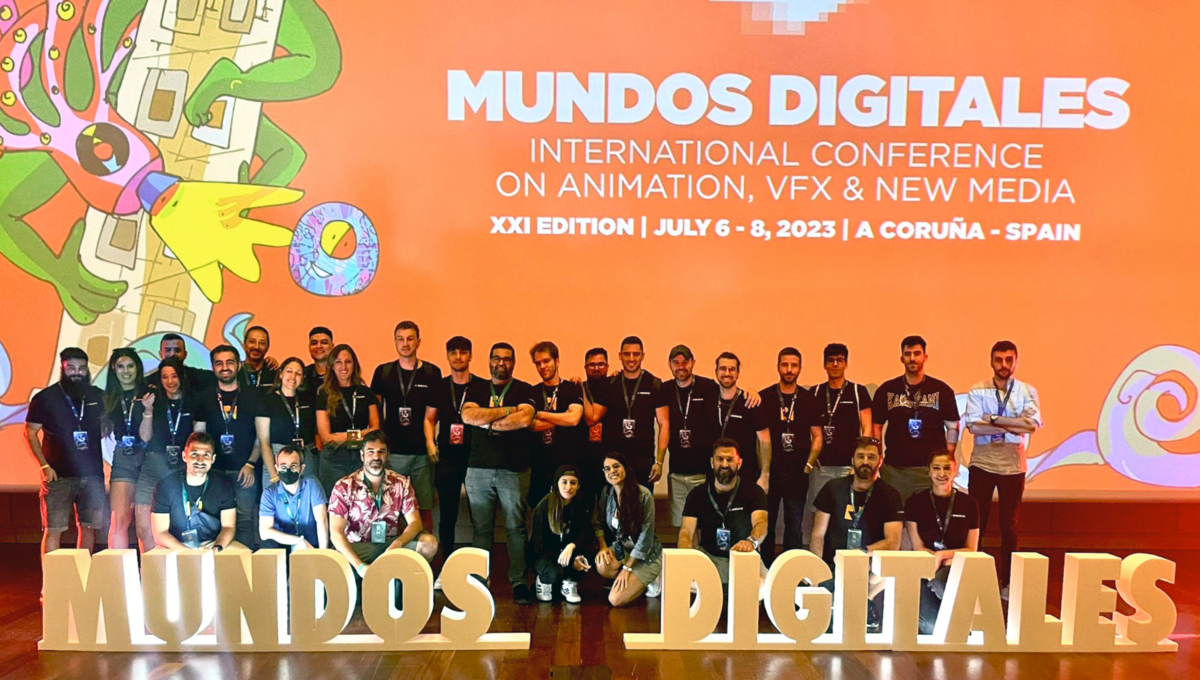 THE LARGEST INTERNATIONAL ANIMATION AND VISUAL EFFECTS CONGRESS IN SPAIN NEVER CEASES TO IMPROVE.
From July 6 to 8, A Coruña became the world epicenter of animation, visual effects and new media with the celebration of Mundos Digitales. This international event has been held since 2002, thanks to its creator Manuel Meijide and his fantastic team. Once again it brought together a record crowd of industry professionals and enthusiasts in search of inspiration, knowledge and new opportunities.
The congress has had an exceptional conference program, of which, of course, from El Ranchito we have been part through different conferences, job fair and representation of our team in particular.
The main companies of the sector were present offering and looking for the most promising talent. It was an ideal framework for networking and exploring new career prospects in the field of digital media.
In addition to the conferences and job fair, the congress offered a wide range of workshops that allowed participants to learn innovative animation and visual effects techniques from renowned experts and technology providers.
From El Ranchito, we have collaborated in the event with conferences and other activities such as:
• From Bones to Comp, focused on the methodology for the creation and integration of hyperrealistic creatures for film and television, taught by our VFX Supervisor Carlos Puigdollers.
• Nichevo'Ya, a particular creature. Chema del Fresno, FX Supervisor, told us how to approach an FX project through a creature made entirely of particles. Nichevo'Ya, a creature from the popular Netflix series "Shadow and Bone" was our protagonist in this conference.
• Manuel Ramírez, Director of El Ranchito, Víctor Felíz (Motiva) and Francisco Menéndez (Welaw) together with other representatives of the Secretary of State for Telecommunications and Digital Infrastructure and the Spain Film Commission, presented the Virtual Filming panel, where they explained the technical challenges posed by this new way of designing virtual content and its creation within an appropriate legal framework.
• Our VFX Supervisor, Óscar Perea through the particular Coffe With... He answered questions and commented how was the step by step of different projects in which he has participated during his career.
• At the Media Pro Tech Meetup Gonzalo Carrión, Director of Corporate Finance & Marketing presented the news of the Meetup, along with great industry professionals such as Alberto Arenas (Technicolor), Victor Felíz (Motiva) and Juan Cañada (Epic Games) who presented and discussed the application of artificial intelligence, and the adoption of USD in VFX and animation productions.
• Our Recruitment team, Laila Sleiman and Irene de la Espada, during the three days of the event have interviewed numerous students and professionals from the visual effects world at the Job Fair.
The environment at Mundos Digitales 2023 was vibrant and energetic. Professionals and enthusiasts shared their passion for animation and visual effects, exchanged ideas, and made valuable connections in an environment conducive to collaboration. The congress not only focused on learning and inspiration but also fostered creativity and innovation in the industry.
The success of the activity reaffirms its position as the national reference event in animation, visual effects and new media and El Ranchito's commitment to the industry. A Coruña is consolidating its position as an essential meeting place for professionals and lovers of the sector, who find this congress an incomparable platform to boost their careers and keep updated on the latest trends.
The next edition of Mundos Digitales will be a must for those looking to immerse themselves in the fascinating world of animation, visual effects, and new media.
We can't wait to see what the future holds for this exciting date with innovation and digital creativity!
From El Ranchito, we thank our team for their effort, courage, and incredible work during these three days. Also, we don't want to forget those who in a particular way have represented us boosting our value as a team.
More
09.20.2023

Society of the Snow to represent Spain at the Oscars

07.24.2023

El Ranchito nominated for two Emmys

05.24.2023

EL RANCHITO PRESENTS THE NEW BRAND